An interviewer's thoughts on those who succeed in mid-career interviews at non-domestic companies
2016/03/03
Business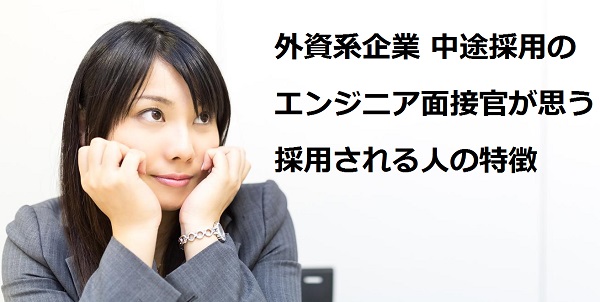 Usually about a year after I get hired, I often get requests from HR asking me to interview new engineer candidates.
One reason is because I have experience working as an interviewer but a bigger reason is, to actually communicate with the candidate face-to-face and check whether he/she is the right person to work with.
I always wonder if I am the right person to make such decision, besides I am an engineer and not an interviewer. Well, I always accept the request since I have no reason to say no.
It will be my duty to prepare a questionnaire sheet for the interview and allocate my time for the interview. This will be my responsibility.
In this article, I would like to introduce some of the aspects of candidates who were successful and not with my comment as an interviewer.
sponsored link
Importance of resume
One individual had a resume stating the following:
Experienced with project management
Performed skillfully in several programming languages
Fluent in English (TOEIC score over 900)
So, there are several points I confirm before an interview. I check the overall content of the resume, and in my case, I will create a questionnaire based on the content.
Interview with the individual:
I asked about his experience on project management but the candidate responds saying, "Yes, I have project management experience with product development" and finishes the conversation without fully explaining the details of his experience.
I questioned him about his programming language skills but the details were too short.
I spoke to him in English then he gave me a surprising look and did not answer to my questions with a smile. Seems he was not fluent with English after all, even though with a high score in English test.
After the interview, I remember the HR guy explaining to me how skillful and well-performed the candidate is.I reserved an hour for the interview but this time it lasted only 30 minutes since he did not come up with that many questions at the end.
Speaking with HR, I only had the option to tell the truth about the candidate. I had no doubts with his technical skills however I was unable to mention anything positive about the rest. It seems the HR guy was able to figure out the result without me directly saying so.
Of course, I precisely reported to HR the positive and negative aspects of the interview and the points which should require attention. However a 1-2 minute discussion was enough to decide whether the candidate will proceed to the next interview or not.
From my opinion, I think the company should take more time to discuss the matter but it seems this is the way the company handles the process.
Depending on the company, there are many different procedures and ways of an interview process but most companies I worked for made decision based only on short conversation like above.
Reason for rejection
I believe if the candidate were to be hired, he could have contributed a lot to the company. However, there is a reason why I did not feel this way when I interviewed him.
He was unable to clearly explain the content of resume.
For example:
If he has experience in project management, he can surely explain how intense the work was and how greatly it helped him to provide a good experience and more. There are tons of things he can explain if he really did experience.
With programming skills, he can share information on what his role and responsibility were, and how he evaluates himself with the skills and so on.
If he cannot speak English well, he shouldn't have written "fluent in English" in the first place. And he can state the reason why in his native language. Maybe he had less opportunity in speaking English during his daily work but often used English in emails and reading. Such explanation would have been helpful to understand.
Explaining all the above will most probably take more than 30 minutes. The difficulty here is to explain the story precisely without making it lengthy. If your explanation is too long, it's difficult for the interviewer to catch up.
Those who get hired
Successful candidates are confident. Their self-introduction is brief and easy-to-understand. All are willing to express themselves aggressively by explaining their experience and performance. If they don't have an answer to the question, they honestly say "I don't know" and asks for explanation.
And the biggest reason for their hiring was, the candidate gave me the impression that my co-workers will surely benefit if they were to work with this candidate.
It's quite a task to give a good impression to an interviewer in such short period of time. I'm sure this is not that easy but I have seen those people who succeed in doing so, mostly getting hired. They are also willing to learn the job as much as possible during probation.
Steps to get hired
I think the best way is to experience lots of interview, speaking with interviewer and learning from the mistakes. If the interview does not go well, don't get disappointed. Remember what the interviewer asked you and use it as a Q&A for your next interview.
It is crucial that you can think ahead of what the interviewer might ask and you have the answer expected by the interviewer.
There are cases where the company's expectation is higher in specific areas of the requirement and the candidate is rejected just because he/she did not meet their expectation. It is also possible to find out after the interview that you feel this company is not the right place to work for, considering the gap between the job description outlined in text and spoken words.
Candidates are not informed of the reason of rejection so there is no point in getting disappointed.
Conclusion
I believe interview is a great opportunity for you to question and find out more about the role, position and the company.
It's a chance to speak directly with the interviewer so take the opportunity to challenge for more interviews, get more experience with them and don't get disappointed. I'm sure they will lead to positive results.
sponsored link
Related Items
Top
---
sponsored link
CATEGORY

ABOUT ME

Hi I'm KoReKuRai, which means 'About this much' in Japanese. Living in Kanagawa prefecture located near Tokyo, Japan. I'm an IT engineer working mostly at non-domestic companies for over 12 years, now spending much time with my 2 year old son. This blog is all about business work style, job transfer, interview, travel, business trips, site development, programming, childcare, health from a Japanese perspective. Ignore my Japanese English and hope you feel interested. You can contact me at
here
. Thanks for your attention.
---
Copyright 2017 KoReKuRai All rights reserved.