Round trip of $40 from US to Niagara Fall, Canada
2016/02/05
Travel
In 2014, when I visited Cleveland Ohio on a business trip, I had nothing to do on the weekend so I decided to go on an excursion to Niagara Fall.
Spending $40 on a highway bus brings you to the fall
I reserved a seat on Greyhound bus (round trip approx. $40, credit card only). Took me about 8 hours to get there.
The Google map route search shows it's only a 4 hour ride by car however the time is doubled if you use the bus, since it makes a brief stop at Buffalo New York.
Rather traveling by air or renting a car, bus is much cheaper but in exchange, it's slower and another reason why I don't recommend, is written at the very end of the article.
Places in Buffalo New York
The bus stop has thick plastic walls on both end, providing visibility of arriving buses.
The place had a small cafeteria with coffees, bagels and sandwiches. Time was about 8 in the morning and I saw two police officers patrolling the area every 10 to 15 minutes. Such strict surveillance for a bus stop!
It's boring to be seated on a plastic chair for hours, so I walked around the area and took some photos. It's early in the morning so you find less people. I had to wait for 2 hours to get on the next bus to Canada.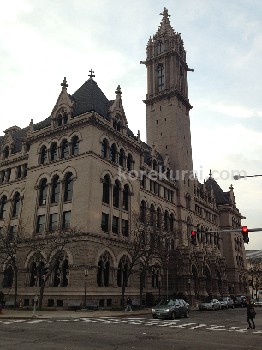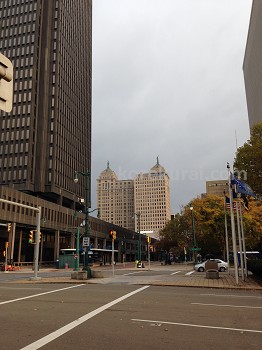 sponsored link
Border between US and Canada
You have the option to see the fall from either US or Canada side. According to my colleague, he recommended the view on Canada side so I decided to take that route.
When you reach the Peace Bridge border, the attendant asks you to get off the bus together with all of your belongings. You are guided to the immigration office. Room is not that big.
Passengers wait in line while luggage is inspected and you are asked for the purpose of entry. You get a stamp on your passport and finally you get to step into the country after waiting about 30 minutes for all the other passenger to complete the process.
I had no issue getting in but was concerned whether I am able to return. Several searches showed that it's easy to cross border into Canada but strict to get back in US. Some article mention you need an I-94 form but it seems the process is rather simple now-a-days. If you are planning to take this route, make sure to search beforehand and confirm your smooth return since this may vary depending on where you are from.
30 minute walk from Niagara bus stop to the fall.
From the border it's about an hour bus ride on the highway and you will reach the Niagara bus stop.
I noticed that you have to walk at least 30 minutes from the bus stop to actually see the fall. There were no taxis at that time so the only option left was to walk. There were several free maps in the bus stop but not in details so I asked the guys for the route.
After few minutes of walk, I was lost. Luckily I found a generous map on the park nearby which helped me find the correct way to the fall. Following other tourists convinced me I was walking in the right direction and after 10 minutes of walk, finally I reached the river. This must be it!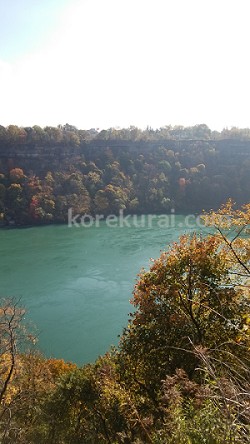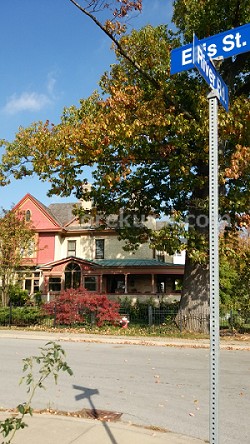 You just walk straight down this road. The autumn leaves are beautiful. This photo was taken in end of October. You don't see much traffic on this photo but there were lots passing by.
I was a bit afraid if this road leads me to my destination but I somewhat liked this uncertainty.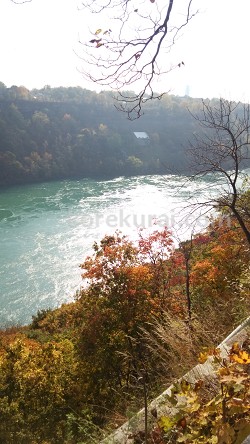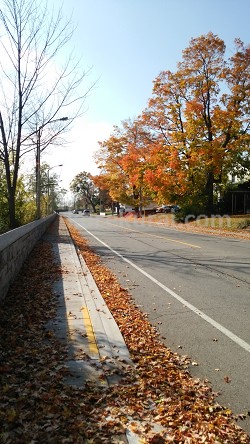 Coming closer to the fall, the sound of water gets bigger and bigger. Yes, I was going in the right direction! The photo below shows US side of the fall.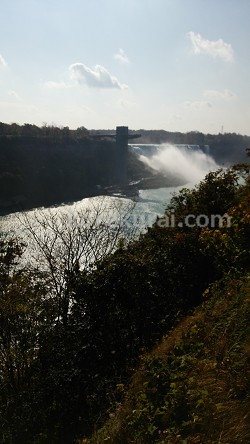 sponsored link
Related Items
Top
---
sponsored link
CATEGORY

ABOUT ME

Hi I'm KoReKuRai, which means 'About this much' in Japanese. Living in Kanagawa prefecture located near Tokyo, Japan. I'm an IT engineer working mostly at non-domestic companies for over 12 years, now spending much time with my 2 year old son. This blog is all about business work style, job transfer, interview, travel, business trips, site development, programming, childcare, health from a Japanese perspective. Ignore my Japanese English and hope you feel interested. You can contact me at
here
. Thanks for your attention.
---
Copyright 2017 KoReKuRai All rights reserved.